As a business owner, one of the most important steps to success is showing what makes your business special and why local customers should work with you. We are now making this easier than ever by introducing new business page upgrades that will help consumers learn more about your business, beyond the photos and reviews contributed by the community. The new products we're announcing, Business Highlights, Portfolio, as well as the recently announced Yelp Verified License, address key pain points we heard from thousands of small business owners in the Yelp community. We heard they wanted more control over how they promote their businesses to potential customers, how to establish trust and build their reputation — especially if they're new or don't have a lot of reviews — and more opportunities to tell their own story.

Yelp has always been a place for consumers to discover hardworking business owners who've earned their great reputation over the years. Now, with our new business page upgrades, we're excited to give businesses the tools to stand out and highlight what makes their business unique, establish credibility, and build their reputation on Yelp.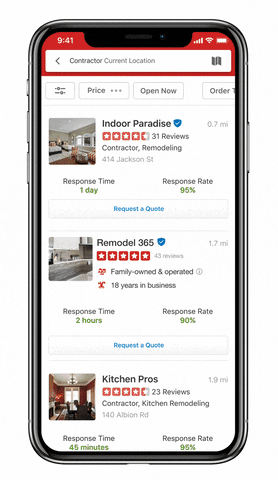 Business Highlights
With Business Highlights, a business can choose six badges to showcase what makes it unique, including two badges that will appear in Yelp search results. There are more than 30 highlights to choose from, such as vegan-friendly, satisfaction guaranteed, number of years in business, and more. Business Highlights costs $2 a day, or $1 a day for businesses who also purchase search ads — we've seen that combination of discovery and Business Highlights in search results work really well together in helping businesses stand out among the competition.

Portfolio
Portfolio gives businesses a way to build consumer trust and attract new clients by letting them showcase the different kinds of projects they work on. For only $2 a day, businesses can present photos accompanied by custom descriptions, which allow them to explain their approach and price range. This helps to set expectations with consumers and get more relevant inquiries.
Yelp Verified License
Introduced earlier this year, Yelp Verified License is indicated by a blue shield with a check mark, making it easier than ever for consumers to make more informed purchasing decisions by hiring a business with a valid trade license — an important factor when considering which contractor to hire, or which daycare is right for your infant. After 30 days of having a Verified License badge on their business page, businesses saw an increase in consumer engagement on Yelp, including clicks, calls and map views. To become verified, a business must apply through Yelp, which manually verifies each license. Verified License is available to qualified businesses for only $1 a day within specific categories in certain states.

We've heard great early feedback from businesses that have adopted Yelp's new business page upgrades, with Lemon Remodeling and Services in San Jose, crediting a 200% lift in activity on their business page and a noticeable increase in leads to their adoption of Verified License, Business Highlights, and Portfolio.

The new products are now available for individual purchase on the Yelp for Business site, and will soon be available as part of a brand new self-service experience that will provide businesses with an easy and seamless way to customize their page. As we continue to evolve the business owner experience on Yelp, we plan to use machine learning to recommend product bundles based on businesses' needs and what page upgrades are most relevant for them.

Here's an early preview…